SMILES collaborates with various community organizations to ensure a variety of recreational opportunities are available for people with disabilities.  The program offers opportunities for community integration, volunteer involvement and the development of Peer Counseling relationships. Get the latest news: here.
Activities include:
Summer Baseball: This program is available for students aged 9 through their year of graduation and provides them opportunity to learn about baseball, and teamwork; make new friends and have fun!
SMILES 2016 Baseball Youth League Program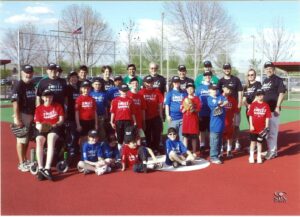 Fishing: Each summer, SMILES holds annual fishing events near Mankato and in Fairmont.  These events give people of all abilities the opportunity to participate in fishing activities.  Summer fishing events are usually held right after the opener!
You can find pictures of last year's fishing event in Fairmont at http://smilescil.org/frmtfish09/

Adaptive Water Skiing continues through July – call Alex at 507-345-7139 or 888-676-6498 for more information.
Other activities include: Referrals for horse therapy; one day events and trips, as well as other recreational activities one might be interested in; scrap-booking, Nintendo Wii nights, holiday parties, dinner/dances, etc.
---
ADAPTIVE SKIING
The Mankato Area ADAPTIVE SKI PROGRAM activities recognize Minnesotans love of a variety of winter sports! SMILES is one partner in a program offering downhill skiing opportunities for people with physical disabilities.
---